Andre Marriner is to referee the Cup Final at Wembley on 11 May 2013.
The FA has confirmed that Andre Marriner will take charge of The 2013 FA Cup  Final between Manchester City and Wigan Athletic next month.
The fixture  will complete a hat-trick of Wembley Stadium refereeing appearances for the  42-year-old, who has previously taken charge of the 2010 Community Shield  between Manchester United and Chelsea and Cardiff City v Blackpool in the  Championship Play-Off fixture earlier that year.
Marriner was also  fourth official for the 2011 FA Cup Final, which saw Manchester City beat Stoke  City 1-0.
Speaking about the appointment, the Birmingham FA official  said: "It's a great honour to be asked to referee the 2013 FA Cup Final,  especially as it coincides with the 150th anniversary of The Football  Association.
"To be involved in The FA Cup Final is ultimately every  schoolboy's dream and, as an occasion, they don't come much bigger.
"I'll  approach The Final as I would any other fixture but obviously the whole event is  on a completely different scale as it is the biggest club game in world  football."
Joining Marriner's team of match officials on the day will be  Assistant Referees Stephen Child (London FA)‬ and Simon Long (Cornwall FA)‬ while Anthony Taylor (Cheshire FA)‬ is the Fourth Official. Gary Beswick (Durham  FA) will be the Reserve Assistant Referee.
Marriner, who is celebrating  his 21st anniversary as an affiliated referee this year, added: "The FA Cup is  revered around the world because of the importance and history of the  competition."
‪
The Chairman of The FA's Referees Committee David Elleray  commented: "We had no hesitation in appointing Andre Marriner, Stephen Child,  Simon Long, Anthony Taylor and Gary Beswick to take control of the 2013 FA Cup  Final between Manchester City and Wigan Athletic.
"All five officials  have shown excellent form for several seasons and have a great deal of  experience in important matches.
"Four of the team were involved in the  last round of FIFA 2014 World Cup Qualification matches.‬ ‪
"Andre has a  long and impressive record of officiating successfully in high profile matches  in the Premier League, FA Cup and for UEFA and FIFA.
"He reaches the  pinnacle of his domestic career with a wealth of experience which makes him an  excellent choice for this FA Cup Final in The FA's 150th anniversary year.‬"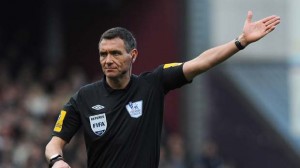 [Footnote: York Referees' Academy will remember that Gary Beswick was a speaker at one of our meetings in the past.]