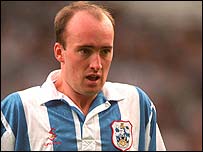 Monthly Meeting – Thursday 4 February 2016
We are delighted to welcome Iain Dunn, ex-York City, Huddersfield and Chesterfield player, to our February meeting.
Iain was once voted Huddersfield's "favourite cult hero" and is sure to be an entertaining speaker. He now manages Huntington Rovers.
Our monthly meetings are held at York Hospital Club, starting at 7:30pm on the first Thursday of the month.