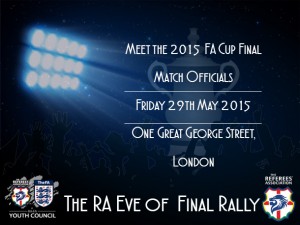 Eve-of-Final Rally
Friday 29 May 2015
Doors open at 5.30pm
One Great George Street, London, SW1P 3AA
This year's Eve of Rally is in conjunction with the RA-FA Youth Council which will be a training/development evening with two senior match officials starting at 18:00, before meeting the FA Cup final match officials at 19:00. It has just been announced that, FA Cup Final Fourth Official, Craig Pawson and, FA Cup Final Reserve Assistant Referee, Harry Lennard will be delivering the interactive development session at 18:00. This is the first time delegates will be receiving training from the FA Cup Final officials the day before the game!
A very enjoyable evening is assured in the company of many other top referees, some of whom have 'been there and done it'. You will receive a souvenir Rally Programme, autographed by the 2015 match officials. A bar and light refreshments will be available.
Come and meet Jon Moss and his team and hear what they have to say about their preparations for the big match. A number of former FA Cup Final officials will also be in attendance as well as senior FA personnel.
Tickets are now available from RA Head Office priced at £12.00 each for adults and £6.00 for those under 18.
Email the slip below to: ra@footballreferee.org and pay by credit card
or Post the slip below to:
The Referees' Association, 1b Bagshaw Close, Ryton on Dunsmore Warwickshire CV8 3EX
———————————————————————————————————————————————-
I apply for — Adult tickets and –Youth U18 tickets for the Eve-Of-Final Rally on 29th May 2015.
Please charge my MasterCard / Visa / Maestro / Solo credit/debit card (delete as appropriate) Number:
…………../…………../…………../…………..All cards: Expiry Date:…………./……….... Total (£)………………..
Sec No (CV) 3 digits …………… Maestro & solo cards only: Valid from ………../……….Issue no……….
Address: …………………………………………………………………………………………………………………………………..
Email …………………………………………………………
Post code …………………… Telephone no ………………………………………..
Tickets will be strictly first come basis, book early to avoid disappointment.